Just a quickie! I bought a copy of Sewing Style & Home over the weekend, as it had a simple girls dress on the front cover, which I thought might come in handy for Dress a Girl.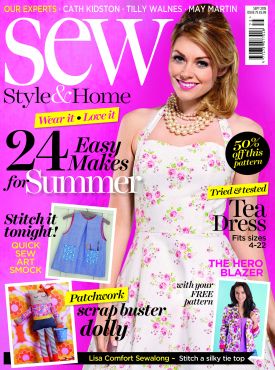 Rather than put in a supplement of pattern pieces with every magazine, they allow you to access all the templates online and just print what you need - and you don't have to buy the magazine first! Just bear in mind that you will need the magazine for the sewing instructions - although there is also an extensive collection of complete downloadable patterns.
You have to set up a login to use the site which simply requires an email address and password but then it looks as if you can access all the templates and patterns with ease (although the templates to go with each issue may not be available indefinitely). I'm sure I'll start getting junk mail/newsletters etc but I'll simply unsubscribe as they arrive if I'm not interested.
The September issue also had a cute rag doll made from scraps of fabric - and you can download the pattern pieces for that too.
I mentally started choosing fabric to make not only the dress but also a miniature doll to fit in the dress pocket! At this point I had to have a
very
stern word with myself and say that there are just not enough hours in the day to make everything I want to. No matter how much I might want to make it...
But if
you
have the time, here's a link to
Sew Magazine
.